If you are planning to go out of town, staying with friends or building and/or remodeling your home, why not have your pets stay the day with us in our 500 square foot indoor facility? Your pet(s) will be playing in a cage-free environment with the other pets. .
Daycare Rates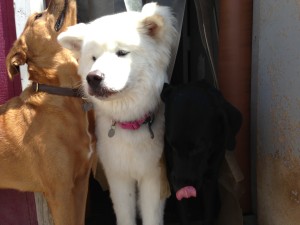 Hourly: First Dog $5 Additional Dog $4
Half Day: First Dog $17 Additional Dog $15
Daily: First Dog $25 Additional Dog $21
7 Half Days: First Dog $105 Additional Dog $98
7 Full Days: First Dog $147 Additional Dog $119
15 Half Days: $182 Additional Dog $168
15 Full Days: First Dog $285 Additional Dogs $225
30 Half Days: First Dog $300 Additional Dogs $270
30 Full Days: First Dog $510 Additional Dogs $450
All dogs interested in staying in 'Daycare' before and/or after grooming are only charged an additional $10 per dog.